CAL CLUB 2022 Autocross School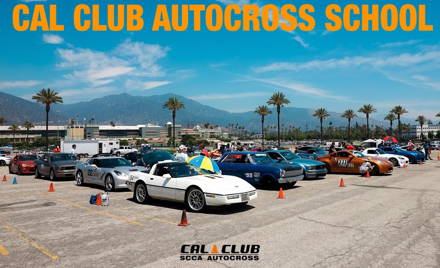 SCCA - Cal Club Autocross
Saturday, January 15, 2022
Auto Club Speedway
,
Fontana

,

CA
Registration closed January 12, 2022 12:01 AM at 2022-01-12T00:01:00-0800 Registration ends January 12, 2022 12:01 AM at 2022-01-12T00:01:00-0800 Registration opens December 27, 2021 12:00 AM at 2021-12-27T00:00:00-0800 Registration runs from December 27, 2021 12:00 AM to January 12, 2022 12:01 AM

Cal Club Autocross is pleased to announce the 2022 Autocross School to be held on Saturday, January 15, 2022 at Auto Club Speedway in Fontana.
The purpose of the school is to introduce club members and members of the general public to proper techniques of autocross and car handling. Everyone with a desire to improve their driving skills is welcome. That includes beginners through intermediates looking to improve on their autocross skills, and to those outside the sport who would like to improve their basic car handling skills.
Solo, or autocross, is a low speed, timed, handling event set up as a small road course lined with orange traffic cones on a large parking lot or aircraft taxi way. The emphasis is on handling and car control and the courses are laid out so that the top speed is limited to what would be encountered during normal driving. Learn more about Cal Club Autocross at solo2.com.
Participant safety is our number one priority. SCCA Solo Safety Stewards approve the course and are present the whole day. Our main goal is that the students have fun and build confidence as they learn:
The basics of analyzing the course during the course walk
Basic car handling techniques and driving skills
Competitive driving strategies
Students will be paired with an instructor, based on car type and skill level. Saturday will include a "chalk-talk" in the morning to familiarize all participants in the basics of autocross, course element identification, and driving technique.
Instructors will be available during all of Sunday's run groups at the open practice. We expect all Sunday drivers to get approximately 12 runs each during the day.
Fees
$125.00 – Autocross School Saturday

Includes Lunch!
$15.00 Discount for current SCCA members

Your weekend member number can be used to give yourself $15 off a yearly SCCA membership
Ask your coach for their SCCA number and receive and additional $15 off a yearly membership
Saturday School Schedule (note times are subject to change)
7:30 a.m. - Site Opens
8:15 a.m. - Mandatory drivers meeting and "Ground School/Chalk Talk"
12:00 p.m. - Lunch (approximate)
4:00 p.m. - End of event (approximate)

In order to maximize this school, it is essential that everyone arrives on-time.
FREE Sunday Practice at the Award Banquet
Students that attend the 1/15 Autocross School will be eligible for free entry to the Sunday 1/16 Coney Awards and Fun Practice event the following day! More instructions on sign-up procedure will follow via email.
COVID Guidelines
The following revised COVID guidelines are in effect:
If you have tested positive for COVID-19 within the last 30 days, you must have a subsequent negative test in order to attend the school. If you have tested positive within the last 30 days and do not have a negative test or have not been re-tested again, please cancel your registration before the deadline and your fees will be refunded.
Please do not come with a fever or if you are feeling ill. Please check your temperature before you leave your house.
We are asking students wear masks while in-car with instructors and to keep all the windows open.
Otherwise, normally out in paddock or grid, masks are not required for vaccinated attendees.
Masks are still required for unvaccinated attendees.
No loaners helmets are available until further notice.
Directions to Auto Club Speedway
Exit the 210 or 10 freeways at Cherry, head South (from the 210) or North (from the 10), you will see the large entryway gate. Tell the guard you are with the SCCA, they will tell you which lot we are in (usually we're in Lot 6).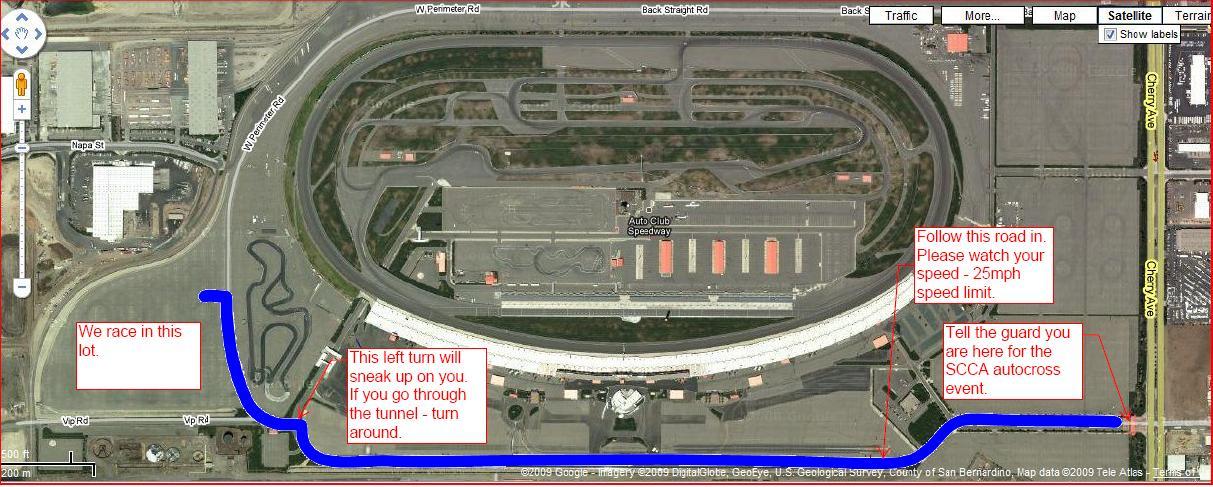 Safety
Held under the SCCA Solo Rules and the Cal Club Autocross Supplemental Regulations
Helmets must conform to Snell 2005 or newer, M2005 or ECE. Some loaner helmets will be available (driver's license will be held as collateral)
One common issue during tech inspection are batteries not securely fastened. Please check to make sure you have a safe and secure way to keep your battery in place or you will NOT be able to participate.
No alcohol or other intoxicants may be used by anyone on the event site.
In-car cameras are only allowed if securely attached to the car per SCCA rules and are approved during Tech Inspection.
Speed limits - Pits 5 MPH; Access road 25 MPH
Cars have the right of way
Photographers wishing to photograph from on-course must have a "spotter" and get prior permission from the Event Master and Solo Safety Steward.
Special Rules
Competitors under 18 years old MUST have a waiver signed by BOTH parents; waiver forms are available online here:

CA Notary Required (A CA Notary's signature is required and both parents are not required to attend the event) - alternatively, you can sign a waiver when you arrive, however both parents must be present to sign the waiver.
Note: If the minor is a spectator and not participating in the event, only 1 parent's signature is required.

Closed exhaust - 100db @ 50' noise standard
No passengers, other than official instructors, will be allowed at the school event. Passengers are allowed on Sunday Practice Day.
No sharing of entry for this event.
Two individual registered students MAX per car.
Event officials reserve the right to make changes as needed without further notice
Event Officials
Novice Coordinator – Reed Gibson
Event Master – Neelu Yeoh
Registration –
Timing and Scoring – Rick Brown
Course Designer – Sam Mayorga
Gate –
Safety Steward – Randy Gonzalez
Workers – Bijan Yeoh
This event is sanctioned by the SCCA and operated by the Cal Club Autocross Region. It is held under the SCCA Solo Rules and Cal Club Autocross Supplemental Regulations.